I pause to rest after a summers hike.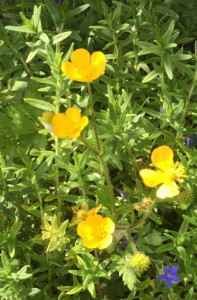 Crossing my legs I notice a crushed buttercup
in the thread of the sole of my left hiking boot
and I feel the shame of a rehabilitated vandal.
My imagination turns to the Ray Bradbury short story,
'The Butterfly Effect' which I read, oh so long ago,
And I wonder the outcome of 'The Buttercup Effect.'
The botany historians of the future will tell of the extinction
of two rare species by a blundering Irish woman
who sealed the fate
of the Lesser Spotted Cornish Duck Billed Wallopper,
by annihilating the last remaining pollenating male
phylum-ranunculus-lapidoptera-I-can't-believe-it's-not-buttercup-olorum,
its only food source,
with her size 7's.
Such are the dangers of straying from the path
and the wanton wilfulness of the proclaimed 'outdoor types.'
Copyright Nóra Skehan 2015