All hail the power of the pen!
Indelible, legible to the end.
At no time in history has there been a cry
Oh Lord, help us, No! My pen doth die.
A malfunction, a crash, for no reason at all,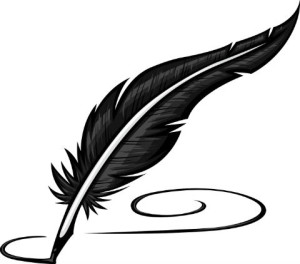 my journal is now blank and I have no recall
of what I had written as I was going so fast
I trusted my pen would make my words last.
But this wail today often is heard
as we trust our computers to save our words.
We trust them to help, save time, make life easy
but they're waiting to crash, stress us out, make us queasy.
The computer seduces us with promises galore,
problem solving, time saving, so we will have more
time on our hands to get more work done.
They've increased our pressure, not our fun.
Hard learned information is the kind that will stick.
Easy come, easy go, instant facts disappear quick
from our memories; and sitting pressing keys 1,2,3,
is solitary, isolating, unlike a trip to the library.
Computers have helped us advance, I'll agree,
there have been improvements due to new technology.
But new grievances too are not so recognised;
we're more frustrated, isolated because we're computerised.
We've not lost it yet and I hope that we never,
throwing away the pen would not be clever,
no batteries required, no certificate needed
let the pen glide, your expectations will be exceeded.
Copyright Nóra Skehan 2015